PhoneCrypt Professional Phone Encryption
PhoneCrypt is an innovative solution based upon military grade encryption (RSA 4096 bits and AES 256 bits), the same technology as used by FBI and CIA, which effectively protects your landline, mobile and PBX phones from access of intruders.
PhoneCrypt Professional

Military strength telephone encryption
Encrypts voice / chat and data communication (pictures etc.)
Fully secures your mobile phone (iPhone /Android), Windows and PBX system
549.00 € Now only: 499.00 €
PhoneCrypt Professional allows secure voice and chat communication as well as secure data/picture and video transmission. It also protects the entire phone from manipulation including Virus, Trojans and shadow software.
When a secure call is placed, PhoneCrypt does not uses the voice channel of the phone, instead the data/internet channel is used, therefore nobody can tell if a phone call has ever been placed, or with whom you where talking. PhoneCrypt calls are not traceable and with the use of a data-flat plan, phone calls are completely free of charge regardless of where in the world the other party is.
PhoneCrypt offers excellent voice quality and an intuitive, easy to use user interface without interfering in the normal functionality of your mobile phone. It is still possible to place normal (unsecure) phone calls.
PhoneCrypt Professional is scalable, here is the overview: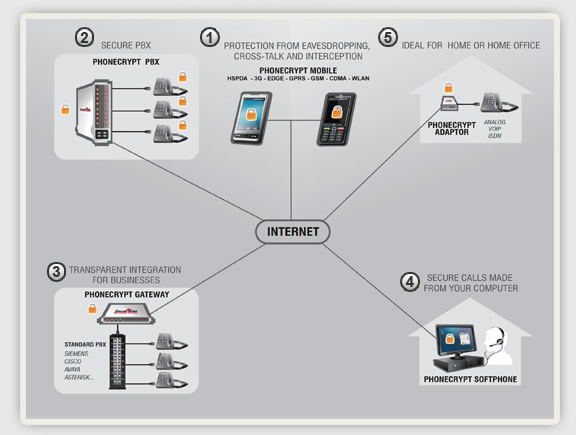 1 - PhoneCrypt Mobile
PhoneCrypt Mobile is designed for individuals and business professionals. PhoneCrypt Mobile offers true mobile to mobile protection using military-grade encryption ensuring complete privacy.

2 - PhoneCypt PBX
PhoneCrypt PBX is a fully secure feature rich PBX designed for small to large enterprises. PhoneCrypt PBX is compatible with the PhoneCrypt suite of products for comprehensive security for all voice communciations.

3 - PhoneCrypt Gateway
PhoneCrypt Gateway is a versatile fully secure phone gateway designed for use with existing PBX systems. It provides secure calls between gateways or gateway to PhoneCrypt Mobile Phone users.

4 - PhoneCrypt Softphone
PhoneCrypt Softphone allows ultimate portability and includes the same features and protection found in the hardware offerings. It is designed for mobile professionals, and individuals.



About PhoneCrypt
1. Who needs PhoneCrypt?
Often, confidential information becomes public thereby causing serious problems for those people, companies and institutions affected.

PhoneCrypt was designed to ensure complete privacy to landline and mobile phones systems, unfortunately the traditional systems of landline and mobile phones are unreliable.

By Industry:
Consulting & Engineering
Healthcare & Insurance
Finance & Legal
Concerned Consumers & Individuals
Government & Law Enforcement
Manufacturers & Suppliers
Software & Hi-tech
2. How does it work:
PhoneCrypt provides military grade technology to secure phone conversations in real time. The advanced technology encrypts mobile to mobile, land-line to land-line, mobile to land-line (vice versa) phone conversations.

Before every call a new encryption key is generated automatically. And it acts as a single combination, an ultra strong protection that is modified every 4 seconds and prevents any interceptation attempt to your communication.
3. Features of PhoneCrypt
RSA 4096 bit & AES 256 bit Encryption
Diffie-Hellman (DH) Key Exchange
MD5 & SHA512 Hash for voice integrity
Protection Agents detects, alerts and defends against attacks
Excellent voice quality
Easy to use and intuitive interface for users - the user doesn't need knowledge of security or technology
Voice encryption - immediate and automatic secure messages without any need of interaction from the user
The software uses internet connectivity through 3G, 4G, UMTS, HSPA, W-CDMA, EDGE, GPRS and WiFi to data transmission
Completely safe – no secure data it is saved in the device at any time
No user intervention is required in security procedures
Modest processor requirements - (less than150 MHz)
Works on iPhone and Android devices without modifying or inhibiting any other function
Encrypted communications on landline and mobile phones
Advanced detection of interception attempts
Superior voice quality (QOS)
4. Compatible Smartphones
PhoneCrypt supports the following platforms:
If you don't have a compatible phone, please consider changing your phone because security should be the most important concern in communication matters.
If however you are not ready change your phone, you can always use our other security solution "PhoneCrypt VoiCe".