PhoneCrypt Universal Phone Encryption
Today all of your phone calls can be intercepted by hackers, competitors, the police or even phone companies without much effort.
Every day, people like you are overheard – business people, entrepreneurs, authorities, lawyers, tax consultants and even private individuals become victims of illegal interception.
When a call is intercepted your sensitive private information is revealed. From, business secretes and internal company data to personal data, hackers can steal anything you say. This contributes to huge financial losses and reputation damage, which can destroy companies and ruin individuals' lives.
PhoneCrypt Universal - Telephone encryption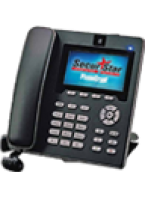 Completely secure telephone- and video- conversations
Secure calls even with people that do not use encryption solutions
PhoneCalls cannot be traced back
Anonymous Phone number included
Works worldwide without roaming fees

Only 349.00 € for the phone (onetime payment)
+ 39.00 € Monthly usage charge
Requirements:
PhoneCrypt Universal requires an internet connection (network cable or Wlan)


The other party does NOT require a specific phone or software
The solution
PhoneCrypt Universal is an innovative business video-phone, that allows communication in a secure, encrypted way. PhoneCrypt Universal encrypts telephone calls effectively and grants that your business and private communication stay completely secure.
PhoneCrypt offers excellent, crystal clear voice communication without any delay; you can even call people that do not use any encryption on their end, still ensuring that your connection cannot be intercepted or traced by any third party.
PhoneCrypt Universal does not require any telephone-line connection; instead, it is connected to the internet by a network cable or Wifi. Attackers will not even know that you are on the phone or with whom you are talking.
PhoneCrypt Universal is mobile; you can use it worldwide when traveling, or even use it from your hotel: Just connect the device to the Internet/WiFi and place your phone-call as usual. Through your anonymous telephone number you can always be reached regardless of where you are in the world and without the caller knowing that you are traveling.
There are no roaming fees.
PhoneCrypt Universal helps you also reduce your phone bills significantly.

Ensure your right to privacy!
Don't provide any opportunities to hackers, spies, competitors, detectives or authorities!

HOW IT WORKS:

PhoneCrypt Universal works in a similar way as our anonymous surfing solution SurfSolo.
The difference is that in this case the security and privacy applies to the phone call.
The PhoneCrypt Universal "Office-Phone" is connected to an internet line, from there it connects securely to the SecurStar PhoneCrypt server, the calls are then routed to your anonymous telephone number and finally, through the standard telephone network, it reaches its final destination.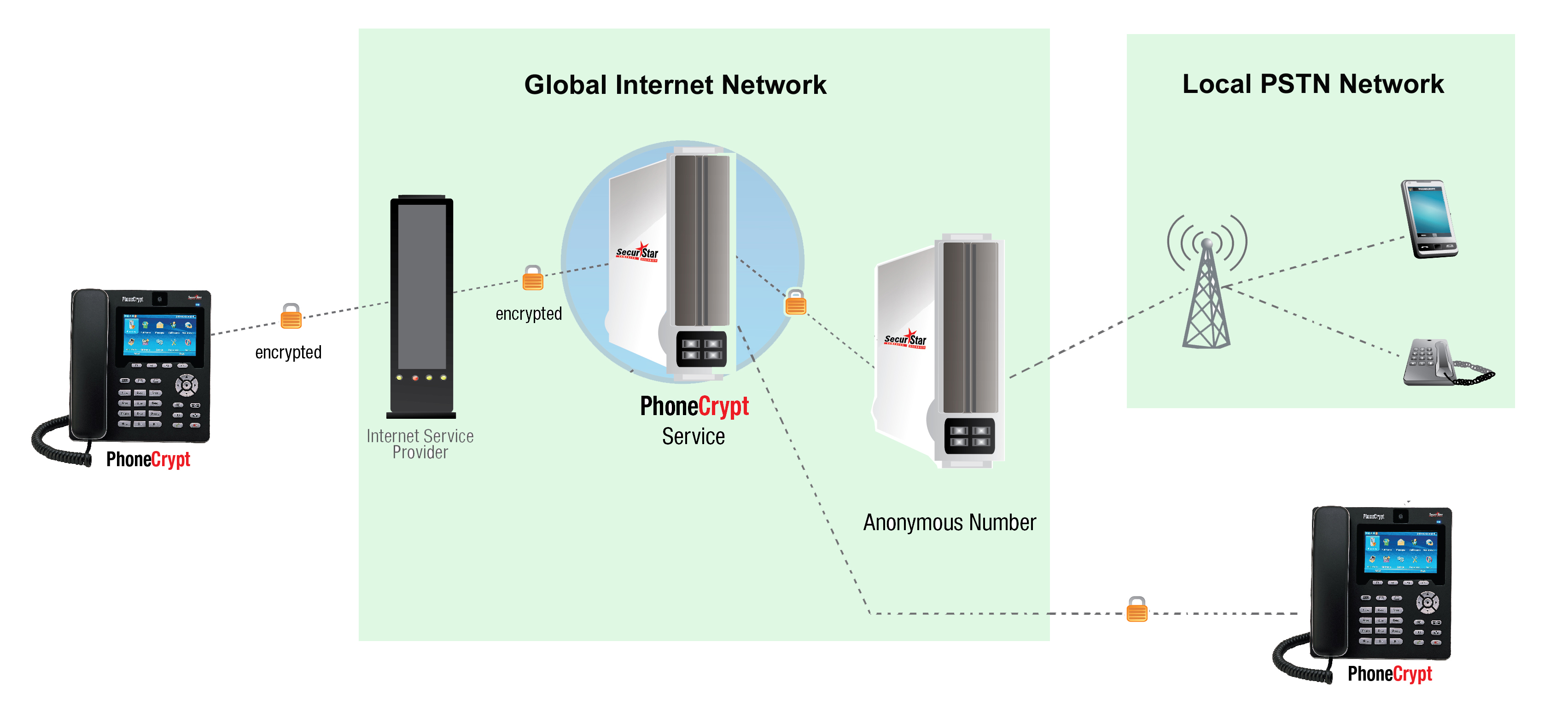 Example: Call from Australia to Germany:

The caller sits in Australia and their encrypted internet call goes to the SecurStar PhoneCrypt server in Hong-Kong. The call is routed to an anonymous number in Germany where it enters the normal telephone network where the call is forwarded to the final German subscriber.
This all happens transparently without any user action just like if it were a normal call.
If somebody tries to intercept the call originated in Australia, they will not be able to intercept anything. If somebody in Germany tries to trace the call back, all they may eventually see is that the call is coming from Hong-Kong. The same privacy and protection applies if the call origination and end point are both in the same country.
PhoneCrypt Universal is the only solution on the market that provides security to users calling external unencrypted phones. Normally, only calls made within a secure point to point encryption channel can be encrypted. This means you need to encrypt your phone and the phone you're calling. With PhoneCrypt Universal, all you need is one phone unit to begin to enjoy top tier protection. This is truly the only solution that lets you call unencrypted phones without the worry of being traced. Of course, please remember that for internal phone communication the best and most secure solution is always to have both ends encrypted with PhoneCrypt universal.
Main features of PhoneCrypt Universal
1. Strong Encryption
PhoneCrypt Universal offers the ultimate protection against eavesdropping as it ensures that no one (authorities, secret services, phone companies, journalists, detectives or industry spied) can listen to your personal telephone calls. Your phone communication will be encrypted with a digital, constantly changing military strength key (RSA 4096 bit and AES 256 bit).
2. Hidden Contacts
With PhoneCrypt Universal, no one is able to see who your contacts are and thus create a connection profile.
3. Untraceable
Regular phone calls can be traced. However with PhoneCrypt Universal, your location is hidden to prevent trackbacks.
4. Secure Video Calls
PhoneCrypt Universal can be used to make safe and secure video calls by using the integrated camera and a large color LCD display.
5. Secure Conference Calls
With PhoneCrypt Universal you can make fully secure 3-way voice and video conference calls.
6. One End Encryption - Standalone
Commercial voice encryption solutions require that all call parties are using the same encryption solution. This is often not feasible. PhoneCrypt universal ensures that your end is always secure. In order to maximize protection, all parties should however still use PhoneCrypt universal.
7. Cheaper Phone Calls
All calls made to other PhoneCrypt users are free of charge worldwide. Even if the other party does not own PhoneCrypt, calls are usually still much cheaper and will save you money.
8. Portable
PhoneCrypt is fully portable. You can use it anywhere in the world (even in your hotel room). If you have a business based in the USA and are traveling abroad, you are still available to your customers on your USA phone number. The customer will not notice any difference, and there is no call forwarding charge. Unlike more phone companies, there are no international roaming costs.
9. WiFi Ready
Using the optional WiFi adapter you are able to use PhoneCrypt wireless (without the hassle of plugging in cables).
10. Skype and Info Services
PhoneCrypt Universal offers several integrated communication solutions including Skype and IM. The LCD screen shows weather forecasts, stock market tickers and news updates.
11. Excellent Voice Quality
Most commercial voice encryption solutions severely deteriorate voice quality and create a delay. PhoneCrypt Universal can be used for all calls offering excellent voice quality without any delay.
12. Easy To Use
PhoneCrypt Universal is just as easy to use as a regular phone, but with high effective protection.