PhoneCrypt Voice Phone Encryption

Feel safe everywhere with 100% secure phone conversations. PhoneCrypt VoiCe securely encrypts mobile phone conversations using military grade digital encryption synthesized with the caller's biometric voice features and inaudible signals which create the strongest encryption possible. It is the first solution on the market that does not require the use of digital phone lines (3G, WiFi, CSD, GPRS, Internet) but instead uses the regular voice channel of the caller's mobile network.
PhoneCrypt Voice Phone Encryption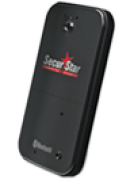 Users can easily verify the encryption
Hacking is impossible even for super computers (Digital + Analog encryption technology)
Classified as audio device and not as telecommunication device, therefore not subject to import/export/use regulations
Works also on Satellite and VoiP communications (Skype etc.)

Was 1,700.00 € Now 1,498.00 €
The Problem

Almost every phone conversation can be intercepted with minimal efforts from competitors, hackers or public institutions. It is well known that companies, politicians, institutions and regular businesspeople are increasingly victimized by illegal phone tapping. An effective solution available on the market is digital encryption (hardware or software based). These solutions may be very secure, but require a data/internet connection (3G, Wifi, CSD, GPRS, etc.) to complete the call. Often, a data connection is however not available or very weak. In this case, the entire digital solution becomes useless.

The Solution

Unlike most voice encryption solutions, PhoneCrypt VoiCe is a unique, innovative technology able to provide the highest security voice encryption to mobile phones using the normal voice channel rather than requiring a data/internet channel. PhoneCrypt VoiCe encrypts the voice digitally and then transports the encrypted information over the analog voice channel of the phone. PhoneCrypt VoiCe can be used anywhere in the world, even where all other digital solutions fail. Even more, PhoneCrypt VoiCe works with any mobile phone on the market (even the lowest-end models) regardless of the brand or model, as long as they have Bluetooth functionality.
Worth knowing about PhoneCrypt Voice
1. Hacking Impossible
The results delivered signals are inaudible analog noises, so hacking is impossible even for supercomputers. The results that supercomputers may find have to be manually reviewed and analized by humans one by one.
2. No Backdoor present
PhoneCrypt VoiCe is an analog output system. Codes are generated in real time using users voiceprint, captured background noises etc. A backdoors does not exist and can therefore not be used by governments.
3. No export regulations
PhoneCrypt VoiCe is not a phone but an audio processing device that is connected to a phone. Using PhoneCrypt VoiCe is like speaking an unknown foreign language. This is free from governmental regulations.